Bivy Stick
Take it everywhere. Communicate from anywhere.
THE SMALLEST, MOST SIMPLE SATELLITE COMMUNICATION DEVICE IN THE WORLD.
Weighs just 100 g… about half the weight of your cell phone.
2-WAY TEXT SATELLITE COMMUNICATION
Able to send text messages to phone numbers or email addresses.
LOCATION SHARING & TRACKING
Keep your loved ones up-to-date on your progress or share a single location when you reach camp.
CHECK-IN BUTTON
Check in button on the device sends unlimited free preset messages and your location without using your phone.
100% GLOBAL SATELLITE COVERAGE
Works anywhere you can see the sky.
SOS COMMUNICATION ON THE APP & ON THE DEVICE
The dedicated SOS button on the device is protected from accidental use.
Emergency service provided by Global Rescue.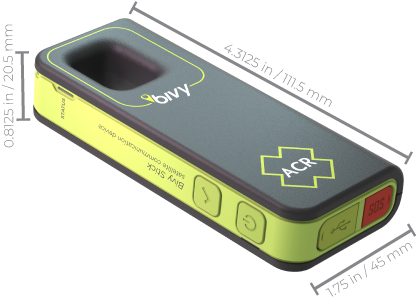 More information: https://www.bivy.com/